Looking for an affordable, non-plastic cup for your babe? Look no further than Thinkbaby's innovative design and easy to use straw top, all in a stainless steel cup. Even when held upside down, it doesn't leak! Easy to hold handles are sure to please your toddler as they transition from a bottle to a cup. 

No spill spout - features easy close swivel top which clamps off the straw upon closure. Think stainless steel is heavy? Think again! This sippy weighs about the same amount as their plastic bottle!
Even better, if and when you feel the need to replace the straw or top, you can easily (and inexpensively!) buy replacement straws and/or tops here!
Size

9 oz liquid capacity
For What Age
The Thinkster of Steel Cup is best for children ages 16 - 48 months.
Materials
Body: made from ultra polished 304 stainless steel (18/8)
Straw: made from extra soft, medical grade silicone
Cap and collar: made from plastic the is free of Bisphenol-A (BPA), phthalates, nitrosamines, lead, PVC, PET, and biologically harmful chemicals

Care
Top shelf dishwasher safe or hand wash.

Product Origins: Made responsibly in Taiwan, China, and Japan.
We love the folks at Thinkbaby and have enjoyed meeting them and talking with them over the years!
Since the company's inception, they have been focused on being socially responsible. For Thinkbaby this means three things:
Create safe products
Have the least impact possible on the environment in the creation, packaging, usage, and disposal of product possible.
Connect to non-profit organizations engaged in activities that help the world become a safer, healthier place
Over the last 7+ years, they have provided products for various fundraisers for diabetes, child abuse, autism, and cancer organizations, and have provided direct aid to catastrophes such as the Texas fires and Haiti. In addition, they have been proud donors to Texas4000, Healthy Child Healthy World, Environmental Working Group, and St. Jude.
ThinkBaby's Chemical Policy
While several companies have begun to jump off BPA-based plastics, many are pursuing new plastics and materials that have not been properly tested. Thinkbaby and Thinksport employs the precautionary principle when choosing materials to work with.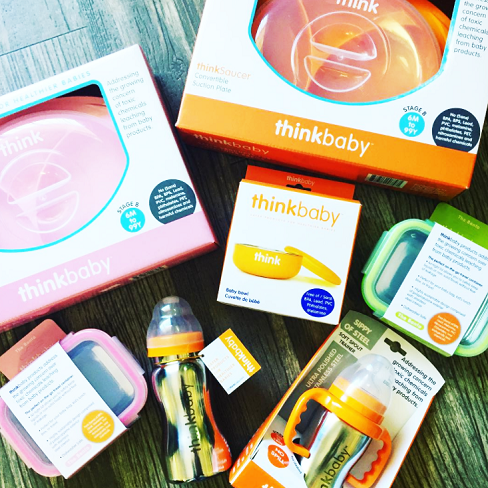 It is important to us that through the life cycle of a product, it does not cause harm to the user or the environment.
We do not utilize clear plastic windows with our products as they are typically made out of PET and PVC and create excess waste.
Below are some of the items that comprise our chemical policy:
No utilization of known carcinogenic, reproductive toxic, endocrine disrupting, neurotoxic materials
Do not contain health compromising chemicals – including alkylphenols, polyurethane, petroleum distillates, phosphates, chlorine, chlorinated or brominated solvents, petroleum-derived or petrochemical fragrances, parabens, sulfur oxides, organohalides, formaldehyde, trichloroethylene (TCE), perchloroethylene (Perc), dioxins and furans, hexavalent chromium, organophosphate pesticides, polybrominated diphenyl ethers (PBDEs), di-(2-ethylhexyl)phthalate (DEHP), 2,4, dichlorophenoxyacetic acid (2,4, D) or toxic dyes
Do not contain PVC, PET, Melamine, or Lead
Do not contain bisphenol-A (BPA), PFCs, PBDE (polybrominated diphenyl ethers)
No animal testing