THE new standard in premium non-toxic sunscreen! Thinkbaby patented sunscreen is free from PABA, parabens, titanium dioxide, and nano particles. SPF 50+ and water-resistant! Also, a little goes a long way!
Not only are ingredients in sunscreen able to interact with skin, but data shows that 26 seconds after application of lotions, the same chemicals can be detected in the bloodstream.  That is why it is so important, especially with baby's much thinner skin, to choose a safe sunscreen! Here are some highlights of Thinkbaby Sunscreen:
First sunscreen to pass Whole Foods Premium Care Requirements
Top rated by EWG with a "1" rating since 2010
Free of biologically harmful chemicals. No Avobenzone, Oxybenzone, or UV Chemical absorbers.
SPF 50+ (Highest allowed by the proposed FDA 2012 Monograph)
Broad-spectrum UVA and UVB protection  (Highest allowed by the proposed FDA 2012 Monograph)
Water resistance (80 minutes)  (Highest allowed by the proposed FDA 2012 Monograph)
Non-nano zinc oxide - Average particle size >100micron
Non-aerosol formulation (High concern of both ineffectiveness and particulates being inhaled)
Paraben, phthalates, PABA and 1,4 dioxane free
Applies and absorbs easily, with a non-oily feel
Sunscreen produced in the USA
Does not have an obtrusive smell that many organic sunscreens have
A member of the Safe Cosmetics Campaign Compact
Founding member Sun Safety Coalition
Gluten-free  (third-party verified)
No animal testing (Leaping Bunny member)
Sizes
Lotion: 3 or 6 ounce SPF50+

Stick: .64 oz. SPF30+
Ingredients - Lotion
Active ingredient: zinc oxide 20% non-nano
Inactive ingredients: PURIFIED WATER (0), ALOE BARBADENSIS LEAF JUICE (0), CAPRIC CAPRYLIC TRIGLYCERIDES(0), SORBITAN STEARATE (COCONUT BASED) (1), PINE WOOD RESIN (0), VEGETABLE GLYCERIN (0), CETYL DIMETHICONE (0), HYDROGENATED CASTOR OIL (0), MAGNESIUM SULFATE (EPSOM SALT) (0), SUNFLOWER OIL, JOJOBA OIL (0), ASCORBIC ACID (VITAMIN C) (0), TOCOPHEROLS (VITAMIN E) (1), OLIVE OIL (0), RASPBERRY SEED OIL (0), CRANBERRY SEED OIL (0), HYALURONIC ACID (MADE FROM VEGETABLE) (0), GLUCOSE & GLUCOSE OXIDASE AND LACTOPEROXIDASE (0), PAPAYA (0)
Ingredients - Stick
Active Ingredient: Zinc Oxide 20% (Non-nano)
Inactive Ingredients: HEALIANTHUS ANNUUS (SUNFLOWER) SEED OIL,COCOS NUCIFERA (COCONUT) OIL, CERA ALBA (BEESWAX), EUPHORBIA CERIFERA (CANDELILLA) WAX, RICINUS COMMUNIS (CASTOR) OIL, COPERNICIA CERIFERA (CARNAUBA) WAX, BUTYROSPERMUM PARKII (SHEA) BUTTER, THEOBROMA CACAO (COCOA) SEED BUTTER, TOCOPHEROL, ALOE BARBADENSIS (ALOE) LEAF JUICE
How Do I Use It? Any Tips?
Safe for children over the age of 6 months.
1. For use on children younger than 6 months, please consult with a doctor.
2. Recommend shaking tube prior to use. Please note that our sunscreen has a very high molecular weight. So smaller amounts will go a long way.
3. Apply approximately 30 minutes to sun exposure. This will also allow the sunscreen to fully absorb and reduce the potential for "whitening". Recommend additional applications for events that involve heavy sweating or water based activities, although the sunscreen falls into the highest level of water resistance.
4. Using Thinkbaby sunscreen helps reduce chance of sunburn, skin cancer, and premature aging of skin.  We also recommend wearing protective clothing while in the sunlight.     
5. Avoid getting sunscreen in your eyes.
6. Warning: If for any reason you have skin irritation, we recommend stopping use and consulting with a doctor. Thinkbaby uses only safe ingredients with no known allergens, but, if problems arise with the use of any product, always best to consult with an expert.
Tips for Application: Thinkbaby formula applies easily and absorbs quickly. Be sure to apply all areas that will be exposed to sunlight, including behind the ears, neck, hands, feet, and scalp. Reapply every two hours or more as needed. While the sunscreen applies very easily, we recommend not spreading it too thin. Otherwise you will decrease the effectiveness of the sunscreen. Keep in mind that physical sunscreens work by reflecting sunlight.
Product Origins: Made in the USA
We love the folks at Thinkbaby and have enjoyed meeting them and talking with them over the years!
Since the company's inception, they have been focused on being socially responsible. For Thinkbaby this means three things:
Create safe products
Have the least impact possible on the environment in the creation, packaging, usage, and disposal of product possible.
Connect to non-profit organizations engaged in activities that help the world become a safer, healthier place
Over the last 7+ years, they have provided products for various fundraisers for diabetes, child abuse, autism, and cancer organizations, and have provided direct aid to catastrophes such as the Texas fires and Haiti. In addition, they have been proud donors to Texas4000, Healthy Child Healthy World, Environmental Working Group, and St. Jude.
ThinkBaby's Chemical Policy
While several companies have begun to jump off BPA-based plastics, many are pursuing new plastics and materials that have not been properly tested. Thinkbaby and Thinksport employs the precautionary principle when choosing materials to work with.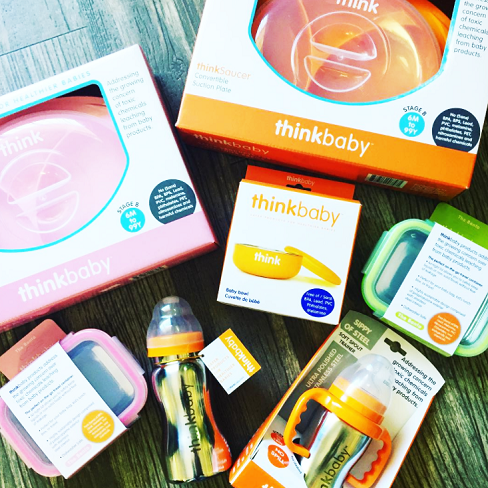 It is important to us that through the life cycle of a product, it does not cause harm to the user or the environment.
We do not utilize clear plastic windows with our products as they are typically made out of PET and PVC and create excess waste.
Below are some of the items that comprise our chemical policy:
No utilization of known carcinogenic, reproductive toxic, endocrine disrupting, neurotoxic materials
Do not contain health compromising chemicals – including alkylphenols, polyurethane, petroleum distillates, phosphates, chlorine, chlorinated or brominated solvents, petroleum-derived or petrochemical fragrances, parabens, sulfur oxides, organohalides, formaldehyde, trichloroethylene (TCE), perchloroethylene (Perc), dioxins and furans, hexavalent chromium, organophosphate pesticides, polybrominated diphenyl ethers (PBDEs), di-(2-ethylhexyl)phthalate (DEHP), 2,4, dichlorophenoxyacetic acid (2,4, D) or toxic dyes
Do not contain PVC, PET, Melamine, or Lead
Do not contain bisphenol-A (BPA), PFCs, PBDE (polybrominated diphenyl ethers)
No animal testing