A simple and effective body lotion for you to share with your little ones. We absolutely love Thinkbaby for their highly researched and tested, natural and effective, affordable products! Plus, it's made in the USA!
Size
8 ounces
Ingredients
Compare your shampoo ingredients www.EWG.org Skin Deep Rating
PURIFIED WATER, HELIANTHUS ANNUUS (SUNFLOWER) SEED OIL, ALOE BARBADENSIS LEAF JUICE, CETYL ALCOHOL, GLYCERYL STEARATE, STEARYL ALCOHOL, GLYCEIN, STEARIC ACID, 1,2-HEXANEDIOL (AND) CAPRYLYL GLYCOL, GLYCERYL STEARYL CITRATE, GLYCERYL CAPRYLATE, ALGIN (SODIUM ALGINATE), XANTHAN GUM, ETHYLHEXYLGLYCERIN, SIMMONDSIA CHINENSIS (JOJOBA) SEED OIL, TOCOPHEROL, THEOBROMA CACAO (COCOA) SEED BUTTER, LINUM USITATISSIMUM (FLAXSEED) SEED OIL, CHAMOMILE RECUTITA (MATRICARIA) FLOWER EXTRACT, CAMELLIA SINENSIS (GREEN TEA) EXTRACT
Completed EWG Verified certification and meets the strictest standards for your health. Formulation based on premium care ingredients and our scientific expertise in creating safer products. Free of parabens, phthalates, 1,4 dioxane, sodium lauryl sulfate and harmful chemicals. No stuffed or real animal testing. No animal products. Tear free formula. (0)
Video

Product Origins: Made in USA
Since the company's inception, they have been focused on being socially responsible. For Thinkbaby this means three things:
Create safe products
Have the least impact possible on the environment in the creation, packaging, usage, and disposal of product possible.
Connect to non-profit organizations engaged in activities that help the world become a safer, healthier place
Over the last 7+ years, they have provided products for various fundraisers for diabetes, child abuse, autism, and cancer organizations, and have provided direct aid to catastrophes such as the Texas fires and Haiti. In addition, they have been proud donors to Texas4000, Healthy Child Healthy World, Environmental Working Group, and St. Jude.
ThinkBaby's Chemical Policy
While several companies have begun to jump off BPA-based plastics, many are pursuing new plastics and materials that have not been properly tested. Thinkbaby and Thinksport employs the precautionary principle when choosing materials to work with.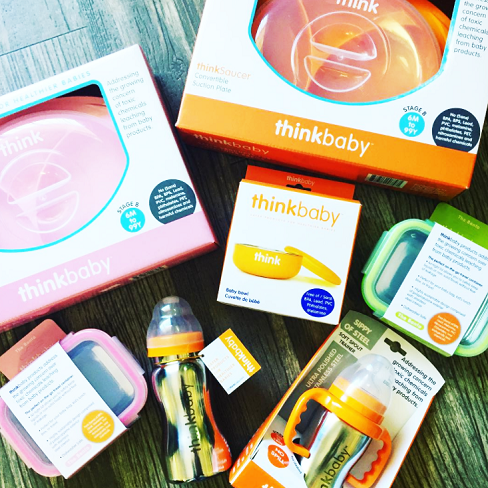 It is important to us that through the life cycle of a product, it does not cause harm to the user or the environment.
We do not utilize clear plastic windows with our products as they are typically made out of PET and PVC and create excess waste.
Below are some of the items that comprise our chemical policy:
No utilization of known carcinogenic, reproductive toxic, endocrine disrupting, neurotoxic materials
Do not contain health compromising chemicals – including alkylphenols, polyurethane, petroleum distillates, phosphates, chlorine, chlorinated or brominated solvents, petroleum-derived or petrochemical fragrances, parabens, sulfur oxides, organohalides, formaldehyde, trichloroethylene (TCE), perchloroethylene (Perc), dioxins and furans, hexavalent chromium, organophosphate pesticides, polybrominated diphenyl ethers (PBDEs), di-(2-ethylhexyl)phthalate (DEHP), 2,4, dichlorophenoxyacetic acid (2,4, D) or toxic dyes
Do not contain PVC, PET, Melamine, or Lead
Do not contain bisphenol-A (BPA), PFCs, PBDE (polybrominated diphenyl ethers)
No animal testing